Homework at NEW is set routinely by every subject to ensure that our students consolidate what is taught in lessons and continue their learning beyond the classroom.
Knowledge Organisers
Through using subject knowledge organisers, students are set revision based tasks to support the recall and retrieval of core knowledge.
All students receive explicit revision training sessions which aims to equip them with personalised strategies to use when completing independent homework revision. In addition to this, every child is also given a designated homework notebook, which is checked by form tutors and subject teachers.
Support with how to help your child to use a knowledge organiser can be found below: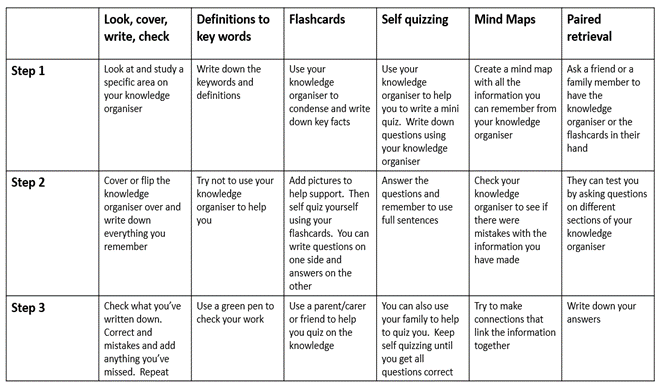 All students will be set homework weekly for English, Maths and Science.  Additionally, Key Stage 3 students will be set homework fortnightly for their other subjects and Key Stage 4/5 students will be set homework weekly for their other subjects.  Students will record their homework in their academy planner.
Parents will be able to see homework set through the Edulink App.