Our curriculum at NEW6 is fully aligned with our wider academy approach. Extending from this we develop student knowledge in a diverse range of Level 3 subjects to ensure our students leave NEW6 as independent learners and valuable contributors of the community. Students commit to a level of industriousness that follows our three key principles: "We are here to attain the necessary skills, to achieve all we can, and aspire to be all we can be."
Career Pathways
Our pathways are Arts, Design, Creative Arts, Healthcare, Sport, and Enterprise.
These are specific career pathways, which will help students progress onto their career choices.
Where students are not yet decided on a career path, there is flexibility to study across the pathways. They can take up to three A level courses; choices must be made from the option form with no more than one subject per block being selected.
For a more in-depth look at each subject, download our COURSE BOOKLET.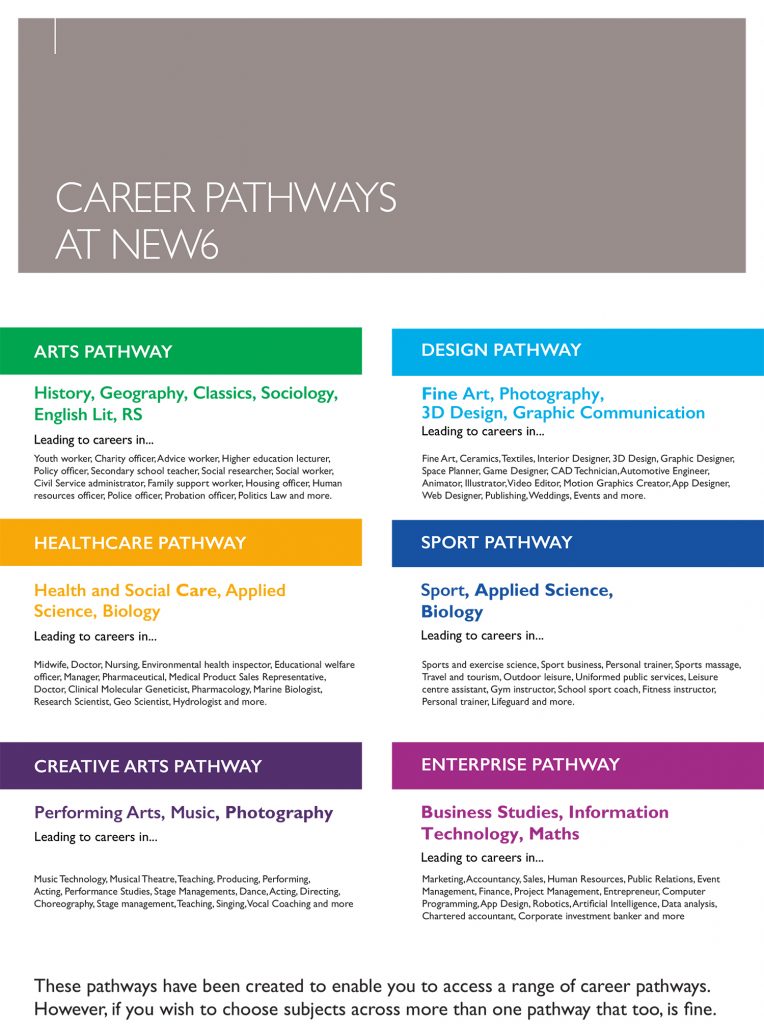 Learning Pathways
Students are expected to continue their subjects into a second year of study. In order to do this, they must achieve a pass in their mock examinations, meet deadlines and show commitment through 96% attendance to each course. Students are expected to study three courses. Any student wishing to study medicine at university may study four subjects in Year 12.
It is mandatory for those students who have not already achieved a grade 4 or above at GCSE in English Language and Maths to attend lessons in these subjects and retake them. Attendance to these lessons is vital to secure the outcomes required for a student's future.
Entry Requirements
Entry requirements for post-16 courses vary depending on the course taken. A Levels require five GCSE grades at 4 and above, and vocational courses require four GCSE grades at 4 and above. In addition to these academic requirements, we expect students to have at least 90% attendance in order to demonstrate commitment to continuing their studies at Sixth Form.