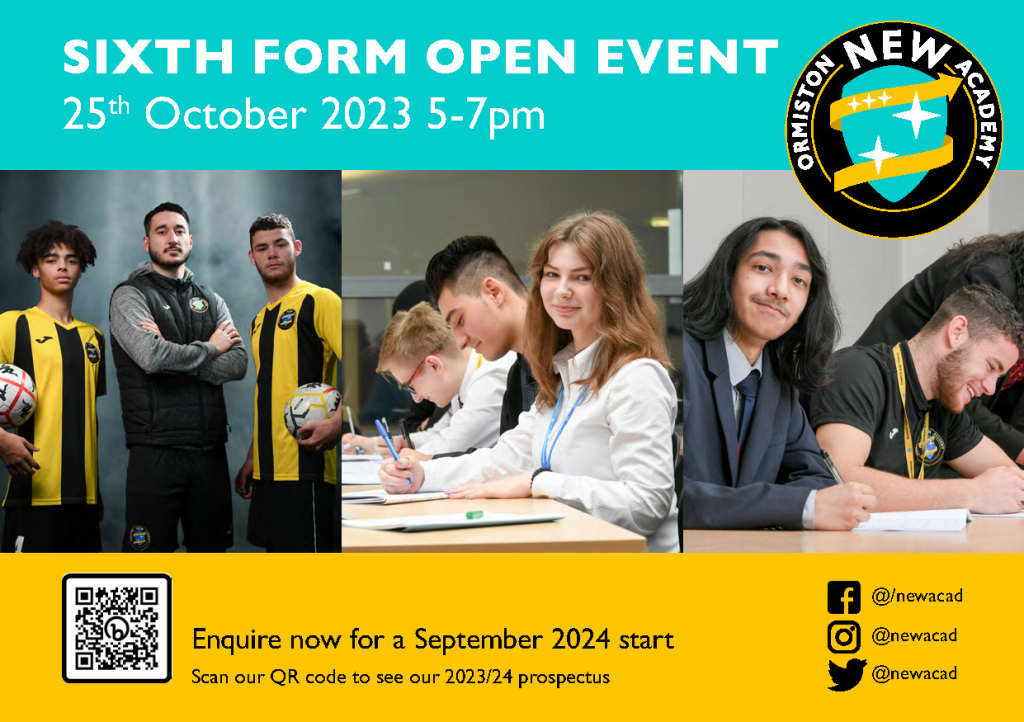 We will be hosting our annual Sixth Form Open Event on Wednesday 25th October 2023. Students who are due to start post-16 studies in September 2024 are invited to visit our Sixth Form to get a taster of life and study with us.
The doors will be open from 5pm–7pm; there is no need to book, visitors can just turn up.
Whether you are thinking about moving onto university, an apprenticeship, employment or a gap year, you will find courses to suit and challenge you at our Sixth Form. With a broad curriculum including a football and basketball academy along with a full enrichment programme, we provide students with currency and character, enabling you to access your chosen next steps and be successful in 21st century life.
We have created an environment where Sixth Form students are role models for our academy and take pride in their work and actions both in and out of school. After introducing a range of new courses including maths, chemistry, classics, sociology and philosophy, our Sixth Form now provides more pathways for students. With help from academic and continued pastoral support that has already been formed lower down in the school, we strongly feel that the transition to Key Stage 5 study will be a smooth process.
Our vision is;
Currency (Endeavour)– Students work hard to achieve academic qualifications.
Character (Pride)– Cultural norms both in and out of lessons. Students are proud to attend a good academy and show pride.
Community (Collaboration)– Students are part of a community within the academy.
Visitors will be able to see the variety and quality of courses we have to offer students. You will have the opportunity to talk to key members of Sixth Form and subject staff, as well as current students. A number of universities and other Post-18 destination providers have also been invited to attend.
The event, on Wednesday 25th October, 2023 is open to current students at NEW Academy as well as external candidates. For any queries please contact Mr Weston, [email protected].